Here's an opportunity to sell the exceptionally flavorful beef jerky from the New Mexico kitchen of Rick & Ellen Robey.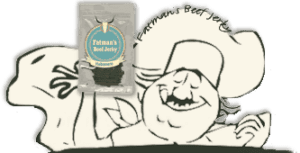 Fatman's Beef Jerky sells itself.
• People crave jerky with a unique flavor

• Beef jerky is becoming the fastest growing snack food segment
• We currently sell throughout the United States!
• USDA Inspected
• Lean and low in calories
• We add no preservatives.
• Competitively priced with good margins
MADE WITH 100% AMERICAN BEEF!!!